New York State School

Safety Group 491
---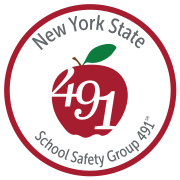 For more than 50 years, NYS School Safety Group 491 has been providing workers' compensation insurance solutions to New York's schools.
By assisting schools in promoting a safe work environment and reducing workplace injuries, aggressively managing claims, and offering a cost-effective premium, Safety Group 491 has been able to return over $102.5 million in dividends to its members.
Safety Group 491 is underwritten by the New York State Insurance Fund (NYSIF), directed by the Safety Group 497 Executive Committee, and managed by Fleury Risk Management.
Program Availability
---
Available to New York State pre K-12 schools including:
Public school districts

Charter schools

Private schools

Special education schools
Program Benefits
---
Fully insured - financially backed by the full faith and credit of the State of NY

Upfront policy discounts for qualified risks

Potential end-of-year dividends based on the group's performance

No claim liability for funding shortfalls or insolvency

Accident analysis and trending reports

Claim reserve reviews

Experience mod factor review and forecasting

Workers' compensation premium budget projections

Audit review and class code verification

Risk control services
Executive Committee
---
Jamie Phillips
Lancaster CSD
Eric Wilson
Binghamton City SD
Jackson Graham
Chautauqua Lake CSD
Mark Muscatiello
Destine Preparatory Charter School
Harold "Hal" McCarthy Memorial Scholarship
---
Scholarship Information
The Harold "Hal" McCarthy Memorial Scholarship was established for the purpose of annually providing financial assistance to deserving individuals interested in pursuing a degree in education. A maximum of five (5) scholarships will be awarded annually at $1,000 per award.
The scholarship is sponsored by NYS School Safety Group 491's Executive Committee and is dedicated to the memory of Hal McCarthy. McCarthy was a founding member of Safety Group 491 as well as past superintendent and school business official at Guilderland Central School District in Guilderland, NY. This scholarship honors McCarthy's spirit, dedication, and service to his community.
Requirements
Applicants must be enrolled (or planning to enroll) in an accredited two- to four-year college or university with a course concentration in education.

Applicants must be a graduating senior from a 491 member school (or the child of a parent who is employed at a 491 member school).

Submit a completed packet including:
Certified school transcripts

Two (2) letters of recommendation

An original essay of at least 250 words
All materials must be submitted no later than February 1st.